At Plowman & Partners, we know how traumatising it can be when your teeth fall out, whether it was prematurely during an accident or due to tooth decay or gum disease. There are ranges of tooth replacement options available to you, but it is important that you find the one that is most suited to your unique circumstances. Alongside traditional tooth replacement treatments, our dentist in Marylebone also offers implant-supported appliances. These are of a much more permanent nature than alternative options as they offer an extremely long-lasting and durable way of replacing your teeth. They can be used to replace either a single tooth, a few teeth or even all of them. How many teeth you need replacing will be something that is discussed with one of our practitioners at your consultation appointment. If you would like to book a consultation appointment with our friendly dental team, then please do reach out to us either over the phone or via our website.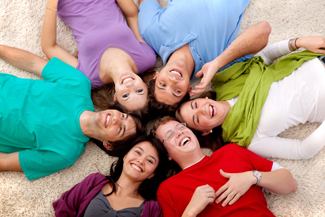 An appliance for every situation
At our practice, we know that every patient we treat is unique, as are their teeth. Tooth implants cater for this individuality, being suitable when replacing either one tooth or all of them. The first step to getting implants is to have a series of small titanium screws placed into your jawbone. How many you will need depends on how many teeth you want to replace and this is something that our dentist in Marylebone will discuss with you at your consultation. One implant is capable of supporting more than one artificial tooth, and a whole set of new teeth can be attached to as little as four implants in some cases. When replacing a full set of teeth, dentures are often attached to your implants, whilst crowns are generally used to replace a single tooth or multiple teeth that are in isolated locations within your mouth. In instances where you are missing a few teeth next to each other or on either side of a remaining tooth, a bridge will often be attached to your implants to restore your smile and offer extra protection to your original tooth.
Look forward to smiling and eating again       
Implants are amongst the only tooth replacement options that keep your jawbone stimulated even after tooth loss, preventing it from disintegrating over time and causing you additional problems in the future. They also offer a more permanent resolution to tooth loss, as they are not removable and will not come loose when subjected to heavy forces. This means that you can enjoy the chewiest of foods without worrying about your teeth getting stuck or coming loose. Once you have your new teeth you must take care of them efficiently if you wish for them to last you as long as possible. Our dentist in Marylebone will explain how to clean your teeth properly and recommend suitable products and brushes for you to use. Dental implants can last upwards of ten years when they are cared for properly.